Congratulation on Getting ISO13485:2016 Certificates
Congratulation on Zibo Qianyan Medical GettingISO13485:2016 Certificates
On Dec.15, 2017, Zibo Qianyan Medical Instrument Co., Ltd received the certificates of registration to ISO13485:2016 Medical Devices Quality Management System issued by NSF-ISR, showing our company's quality management system are internationally recognized and we became the first manufacturer of medical ozone therapy units in China certified by the mentioned system, it's one of the important milestones in the development of our company, a key step for Zibo Qianyan Medical to international market and our quality promise to the entire world.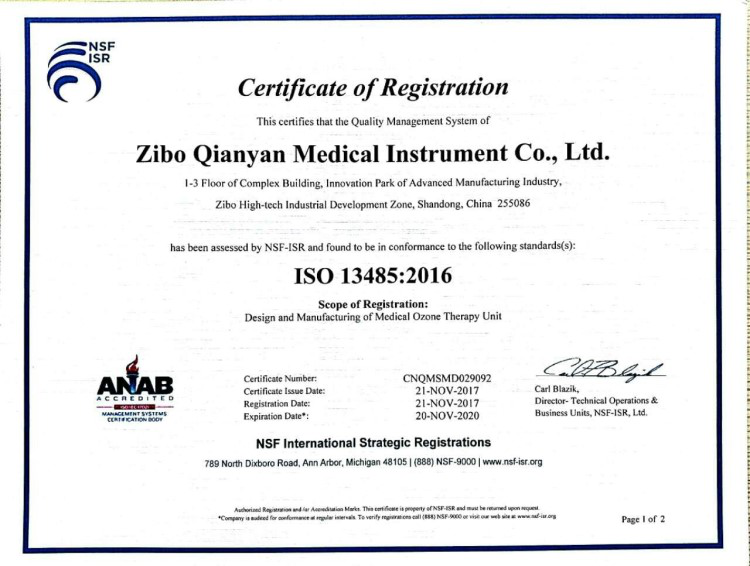 Implementation of ISO13485:2016 helps
- improve our company management level, avoid legalrisks, make the enterprise well-known;
- improve and ensure product quality, obtain greater economic benefits;
- eliminate the trade barriers and get a pass to international market;
- enhance products competitiveness and increase market share;
- reduce product quality accidents and adverse events by efficient risk management;
- improve employee's sense of responsibility, motivation and dedication.
Our company becomes more reasonable and effective,internal communication efficiency gets improved and the certificates also serves as a part of satisfaction to Medical Devices Directive of EU, the mandatory requirements to enter medical devices market in Europe.
With this honor, we will keep on working hard on medical instrument management and quality control to assure patients safety and better products of stable quality in the sake of Chinese medical instrument development and the great "China Dream" realization.