Congratulations! Our Medical Ozone Therapy Units Approved by the WFOT as High Quality MOG
Congratulations! Our MedicalOzone Therapy Units Approved by the WFOT as High Quality MOG
On July 22, 2018, good news from World Federation of Ozone Therapy (WFOT) that the medical ozone therapy units manufactured by Zibo Qianyan Medical InstrumentCo., Ltd. were defined as high quality medical ozone generator and certified byWFOT Scientific Advisory Committee.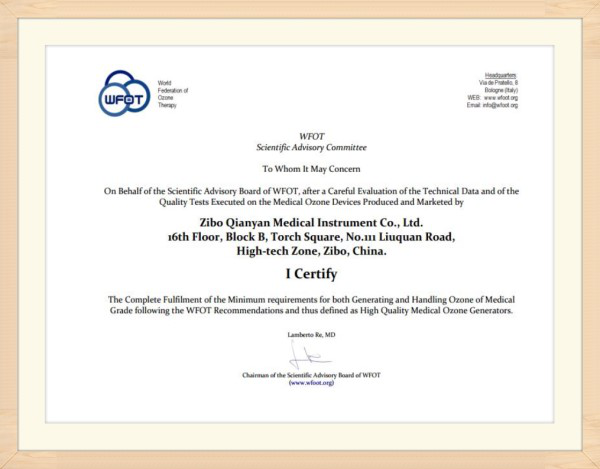 TheWorld Federation of Ozone Therapy (WFOT) is an international non-profit making association founded on April 9th of 2005 in New Delhi, India,currently headquartered in Bologna, Italy. Its purpose is to promote the use ofozone-polyatomic oxygen – in all possible medical aspects. It's the first ozone society in the world in terms of number of members, representing 31 countries throughout 23 National Associations, 9 National Sections and 2 individualmembers.
Ourcompany and our products for medical ozone therapy are recommended to all WFOT members on its official website.